Forsaken World User
Join Date: Apr 2011
Posts: 41
just saw some1 get a elemental star essence from the chest in a guild base, any clue what it is and what its for?
---
Last edited by BlackLuster - Eyrda; 02-10-2013 at

11:14 AM

. Reason: EDIT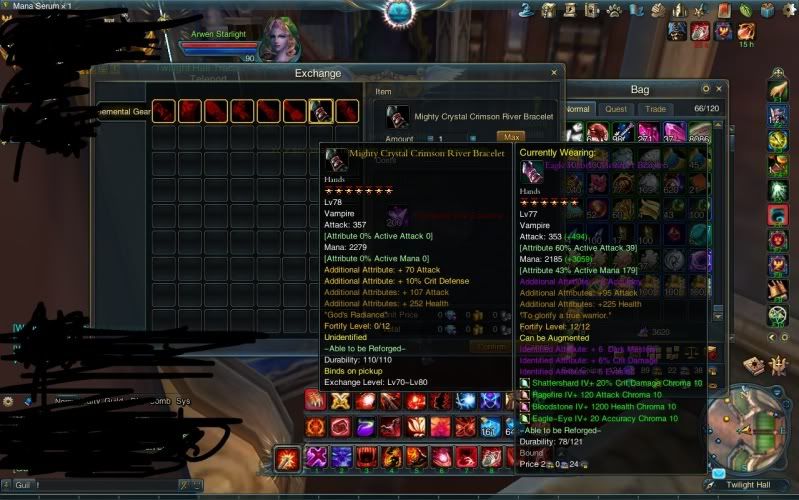 1. Drops from Elemental Dominator "Elemental Star Essence" can now be dropped from all the other 7 elemental bosses. "Elemental Star Essence" can also be attained through guild base chest "Loyal Faith" quest. This essence can be exchanged with Arwen Starlight for god like gears.
Quote:
Originally Posted by
BlackLuster - Eyrda
I won't tell any information how to get it.

Nobody will ever get item needed for them. When you see the number your mind will blow away.
Oops just blew you secret
-You need 200 of them
-You exchange for legendary Wrists from Arwen Starlight in nightfall.
Really easy to figure out, no clue why you would keep this a secret anyways
Quote:
Originally Posted by
BlackLuster - Eyrda
I know some people in the game, that wouldn't know about NPC. They ask you what's this NPC in like 3 months later and make up excuse why don't know this exist. Which this was stated several time in the past.
WOW,, you know EVERY NPC in the game and the function of EVERY NPC in the game ??
I have to admit that you are better person then I will ever be then
Now put your Mammas credit Card back in her purse and go back into your Mommas basement
You cant fix STUPID, but YOU CAN KILL IT ! ! !
FYI:90% of my post is sarcasm,read it again and figure it out!
Any idea how much these are worth? I had one drop for guild base quest.
# 10
03-03-2013, 10:30 AM
you need 200, you should be able to figure out a normal number
| | |
| --- | --- |
| Posting Rules | |
All times are GMT -7. The time now is
08:28 PM
.