Got the quest at 30 lvl and you dont know how to trade and get profit from the mercury union traders ?
Here is a large image and some tips how to trade and use the trading menu from those npc.Also a guide about Merchant skill (lvl 40 required) is availabale here by cashholder11
http://fw-forum.perfectworld.com/sho...mercury&page=2
After you talked to the main Mercury union npc and you got the quest you receive some special coins (mercury coins) to start trading between npcs , in 1st phase 3000 coins and in second 2000.Also activating this quest you wont be able to teleport normal not even with your default teleport skill , you will have to visit few npc around Kalaries Woods/Plains but after that the quest isnt over , the quest will finish only when you go back at the main npc mercury union and click on Evaluate business, then you will unlock the teleportation too. How to identify the Mercury Union Traders ? just, hit M and look for Greek building-looking icon on the map. Suppose you already talked to all nps in 1st phase but you want to start to trade and you are already at a trader npc ,look at screenshots how to trade and see the profit.The mercury coins and the goods can be seen by pressing B (normal inventory) but select the Trade tab .
In the beginning it will be very hard to get some nice profit since a npc offer between 1..10 coins or just a bit more per each unit but in time with patience you will be able buy more goods from profit too and the next profit can be multiplied.The goods stored on each space (from 4) can stack up to 50.Each time you buy , the game will allow you only 50 goods on each round/space.If you have more money to spend you have to repeat the buying and the next goods will go in next room from your merchant inventory.
Usually closest merchant npc from where you bought the goods wont buy/offer you a good price so you have to choose another merchant a bit far away from where you got the goods , anyway try it you might have some luck, the prices are , i think randomly generated in some limits of course.
In the Solo Merchant Run quest, phase 1 the Merchants npc might give you some tips about where to sell and what to sell a goods type. You may note that on a paper and start searching/buying or or ignore it , just see the guide and you will know what to do . The main purpose of this quest/Merchant skill is to get profit for Merchants Union , it doesnt matter how or where and that profit will be turned into soul coins and Reputation. Before take this quest or practice merchant skill i suggest you to be prepared bcoz you wont be able to teleport anymore.If you are ~30 lvl with a free mount from lvl 20, check the mount and see when it expire !!(mouse over the mount icon) .Also in your travel/way you can kill a elite for drops or gather some herbs , be sure your armor is repaired and you have some empty space in inventory..just in case.Gathering herbs while you travel may bring you some real coins if you auction them to Auction House.In your way you might find a new salesman npc with a new recipe scroll which you dont have it , feel free to explore maps, talk to npcs and dont forget , you cant apply for instances when you are under this quest or merchant travel route , or you wont level so fast from this , but everything comes with a price
Doing this will bring you reputation with the Merchants and gold
Important :
1. If you die (beeing afk ,killed by elite/agressive mob or pvp player) during the trade run you lose all the mercury goods and the mercury coins .You have to start all over again from phase 1. How ? Go back to main Mercury Union Chairman Christopher in main city and select to "Regain Merchants trust " option , this will cost you 20 silver , real coins , tradable.
2. If you dont want the trade route/quest or if you want to remove that trade state (buff) which doesnt allow you to teleport or do instances , hit B (inventory) select Trade tab and you will see a button named "Trash" , use it and you will cancel/trash the trade route or you can just go/wait to be killed by a mob or elite.Trashing this quest may lower your merchants reputation with -20 Reputation and like others say/reported on forums, you wont be able to take again the quest (could be a bug) so i suggest you better to get killed by an elite mob or higher/grouped mobs to get the option later to regain merchants trust.
In each map there are 2 Caravan Teleporters to teleport between maps and it looks like a small portal icon with rainbow colors.A normal player without this quest or merchant skill can't see the icon on map ,only the
caravan as a npc.
You can buy and sell the goods with right click too.
Merchant Union Kalaires Plain and Freedom Harbor traders npc map
Quote:
Originally Posted by
tenshi774
from fossickers plain traider get bear liber and sell to windery trader and buy from him wheat straw and sell back to the other trader. fast road as u got back to the fossickers trader go north west to the mountain and jump down u can grind 20k gold in half hour
Thank you very much tenshi , added your tip to guide today 03-25-2011
If you use this route between Fossicker Plain and Windcry Farm , if you're not AFK , even if you are mounted or not , you can stop and farm all roses in your way , this will get you at least 70 roses in 2 phases and auction them if you need tradable gold (wild roses are very wanted in AH- used for Dreamland experience potions).
Merchant Union traders npc Sea of Oblivion map
Merchant Union traders npc Lunagrant Woodland map
Here is complete list with the goods
http://jamora.envy.nu/Merchant.html
thanks to cashholder11.
1st and 2nd run are received at 30 lvl, the third run is unlocked at 40 lvl with merchant skill.You can finish it anytime you want (also it will unlock the normal teleport for you ) , just visit the quest giver in main city and select to Evaluate your bussiness but be sure to have a small profit to turn in. The amount of profit you have can bring you soul coins (~1soulgold) + experience (around 3000 after finishing 1st phase) and Reputation with the Merchants union even if you dont have the merchant skill.
This 2 phase-quest can be taken daily.Turning in 2 times with maxed profit can bring you around 3 gold (soul coins) , ~6k+ exp and ~150 Reputation with Merchants.
Link -->
Frequently Asked Questions
<-- Link .If the link doesnt work for you , go to page 2 (post #19) of this thread.
Link -->
Goods Prices (Kalaires map) - Create your own trade run route
<-- Link .If the link doesnt work for you , go to page 4 (post #31) of this thread.
Link -->
How To Maximize Profit In Trade Runs
<-- Link .If the link doesnt work for you , go to page 5 (post #46) of this thread.
Good Luck !
coming soon Gloomy Forest;Hazed Wilderness 40+ maps;prices charts
The guide might be updated sometimes with new tips or images.Feel free to post comments,pro or cons , or even tips .Thank you
If you used links or created documents from here and images/texts were changed/upgraded you might get broken links, so make sure you update your links or documents.
---
Last edited by Crysty - Storm Legion; 06-11-2011 at

01:14 PM

.
Wow thanks so much, very usefull and PWE should learn from you, they are uber noobs
---
Last edited by mrforsaken; 03-15-2011 at

06:27 AM

.
Nice screenshots
Just a quick question tho, I don't get the point of going in SoO to do some trade runs, what's different from doing it in Kalaires?
Signature by Baby.
Level 90 since august 2014
- Elemental Warrior 90
- Ice Mage 90
- Blood Raider 87
- Divine Priest 85
- Water Bard 83
- Precision MM 80
- Demon? I hope soon xD
Thank you very much too
@ Ginius
Merchants from Kalaries may not offer you a better price/higher (Current Bid) than your Price for a specific goods item type.Means they dont want it and you will need to teleport to the Sea of Oblivion map to get a higher price therefore a profit.If you still cant get a positive price in Oblivion means you are "stuck" in trading, also if you are not 40 lvl , you can't cant travel to another map.Therefore i added that red bubble tip in the last screenshot.I was stuck too and i needed to sell goods at a rate -3 coins per unit ( i had just 1 type goods and spent all money on that but i guess to avoid losing money to much , is better to buy 2 goods types or more , not just 1).Anyway i think the prices from others npc are random generated and i think there is a small chance to be stuck in this situation.
Also you may want to search for a better profit in the Oblivion map bcoz the merchants in Kalaries offer you only +3 coins maximum per unit and this might take ages to get a nice profit to turn in quest or apply merchant skill route.
---
Last edited by Crysty - Storm Legion; 03-15-2011 at

06:24 PM

.
hy umm could you show where can we find those merchants, i did the first run and now i cant remember where the merchants are, thnx
Quote:
Originally Posted by
cheohostil
hy umm could you show where can we find those merchants, i did the first run and now i cant remember where the merchants are, thnx
Sure cheohostil np
, just give me some time to take some screnshots and processing
.A maintenance is coming and i dont have enough time to explore all and take detailed screens , pls come back later.Thank you for your reply/suggestion .
The Golden Scorpion - Suggestion for a new pet for Marksman class or everyone xD
---
Last edited by Crysty - Storm Legion; 03-15-2011 at

09:53 PM

.
ive been postponing this quest for some time just cus i felt too lazy to run but seeing the way u explained things im up for some trade runs every day now :P tyvm for the clear pics and detailed info...kudos
In Bloodclaw Encampment there is a caravan too you can use that to Teleport to Oblivion.
Also trade place in the big city course where you start.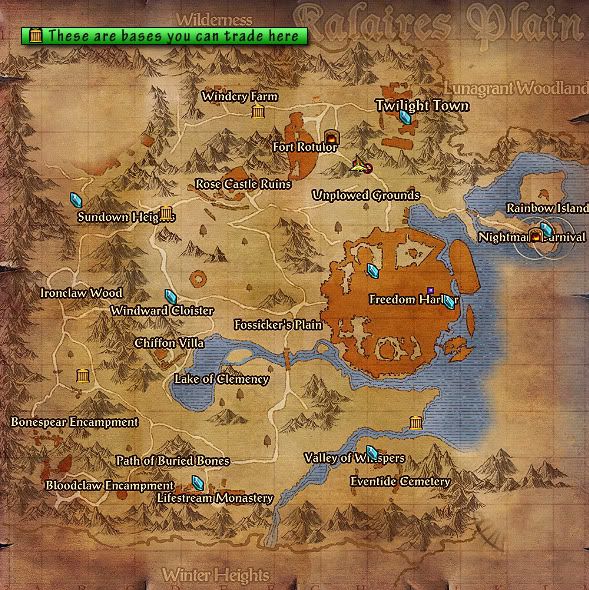 "where do i disable signature in control panel?, dont need to see needless junk -.-"
Hint. Before you take the quest go around to the guild teleports. When you open the teleport screen it will tell you what the best selling items are for the adjacent trader. this way you go to one trader and when you sell off you can see what he is selling for the lowest then buy that up and go to the trader that really wants that item.
# 10
03-16-2011, 10:07 AM
Added Oblivion map
Quote:
Originally Posted by
mrforsaken
Wow thanks so much, very usefull and PWE should learn from you, they are uber noobs
you welcome mrforsaken. Would be great if on mouse over those icons we can see the goods and the names too if need it for quest/skill travel as i maded these info tooltips
The Golden Scorpion - Suggestion for a new pet for Marksman class or everyone xD
---
Last edited by Crysty - Storm Legion; 03-18-2011 at

08:38 AM

.
| | |
| --- | --- |
| Posting Rules | |
All times are GMT -7. The time now is
06:45 AM
.